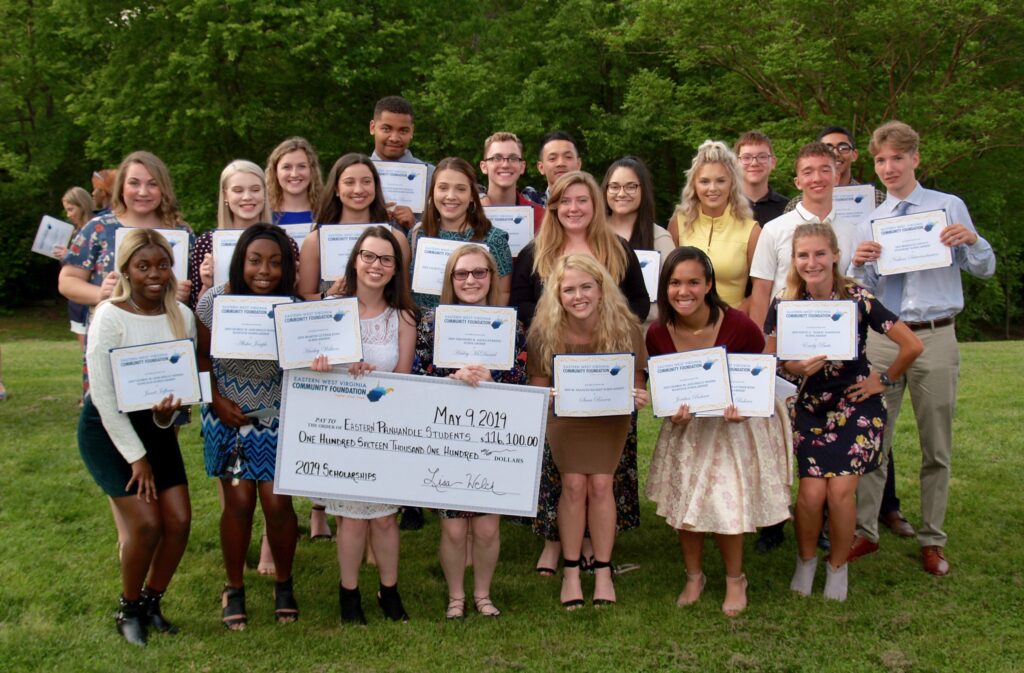 Thanks to generous donors who have established dozens of scholarship funds, the Eastern West Virginia Community Foundation awards more than $100,000 in scholarships annually. The list below features all of our currently active scholarships and will give students an idea of which scholarships might be available to them.
In creating a scholarship, donors invest in the community's future and show students that they care. Your community foundation provides the expertise to help you meet your personal goals and awards scholarships to deserving students. Your gift can help students — from preschool to postgraduate — achieve their lifetime dreams. The minimum required to establish an endowed scholarship at the Eastern West Virginia Community Foundation is $20,000.
Berkeley County Teachers' Scholarship Fund 1996 Corning Glass Works and the Corning Foundation founded this fund to help send Vicky Bullett's family to the 1992 Summer Olympics, where Ms. Bullett won a gold medal playing with the USA women's basketball team. Surplus gifts started this permanent endowment to benefit college-bound teachers.
Deborah, Leslie, and Christopher Bright Achievement Fund 2007 Created by Dr. Harold and Mrs. Janice Bright, this fund, named for their children, provides scholarships to students in grades 9-12 from Hampshire and Morgan Counties for hands-on experience in STEAM-based subjects (Science, Technology, Engineering, Arts, and Math).
Walter and Mary Jo Ziler Brown Fund 2006 This fund helps Eastern Panhandle students study animal husbandry, agriculture, or veterinary medicine.
Emily C. Cooper Bee Line Chapter of N.S. Daughters of the American Revolution Scholarship Fund 2011 Female residents in Jefferson County with good grades, financial need, and solid character, and who seek a higher education benefit from this fund.
Emily C. Cooper Jefferson County ROTC Scholarship Fund 2011 Enrollees with Jefferson County's ROTC program with financial need benefit from this fund as they seek higher education.
Anna Jo Crosby Scholarship Fund 2003 Anna Jo Crosby's friends, family, and husband created this tribute in her memory. Scholarships support Morgan County high school graduates pursuing a degree in biology or veterinary medicine.
Derflinger Earth Sciences Scholarship Fund 2006 This fund, created by Jerry Derflinger, helps Berkeley County students with financial need attend a West Virginia college or university to study agriculture, forestry, geology, archeology, or environmental science.
Destiny Baptist Church Patrick J. Walker Scholarship Fund 2013 This community scholarship fund was established by Destiny Baptist Church congregants in honor of much-beloved former pastor Patrick J. Walker. College-bound graduates who are members of Destiny Baptist Church are eligible to apply.
Polly Dillon Scholarship Fund 1998 Mary Coe Dillon, a retired school teacher, invested her professional career in educating Berkeley County children. Her fund is dedicated to providing scholarships to Hedgesville High School graduates interested in pursuing a four-year degree in agriculture or related natural sciences.
Mary and Walter Duke Teachers Scholarship Fund 2007 In creating this scholarship, Walter and Mary Duke were inspired by the generosity and fond memory of Francis and Virginia (Hon) Frye, business owners and civic leaders in Jefferson County, who nurtured and mentored Mary Duke as she began her teaching career. Since Walter and Mary both dedicated many years of their lives to teaching, they designed their fund to support future generations of Shepherd University students seeking a degree in teaching.
Durham Family Scholarship Fund 2022 This fund provides scholarships to students of good character, with financial need and athletic or community service background, from Jefferson, Berkeley, or Morgan Counties in West Virginia.
Eastern Panhandle WVU Alumni Association Scholarship Fund 2004 This fund provides scholarships for graduates of Jefferson, Berkeley, or Morgan county high schools to attend West Virginia University. To be eligible, students must be the children, stepchildren, or grandchildren of WVU alumni.
Fischer Family Fund 1999 This scholarship fund was established by Dr. Frank H. Fischer to provide scholarships to eligible recipients pursuing an associate degree in business or accounting.
Dr. N. Blaine Groves/Rotary Scholarship Fund 2001 The Martinsburg Rotary Club created this scholarship fund in memory of Dr. N. Blaine Groves to benefit Berkeley County high-school graduates.
Chad Hammond Memorial Scholarship Fund 2014 Founded by friends of Chad Hammond, this scholarship helps a graduating senior from Musselman High School who has participated in sports, has a proven financial need and will attend Marshall University or another college or university in the State of West Virginia.
George W. and Holly Woods Hancock Scholarship Fund 1995 George Hancock became the charter donor of the Eastern West Virginia Community Foundation when he established this fund with a gift of $100,000. Mr. Hancock directed YMCA organizations around the nation for 43 years. His wife taught kindergarten. Their work inspired this fund that provides higher education scholarships to African American students graduating from Berkeley County high schools.
Harry H. Hardie-James Rumsey Scholarship Fund 2011 Established in the Last Will and Testament of Harry Hardie, this needs-based scholarship benefits students from Musselman High School who will attend James Rumsey Technical Institute. Applications for this scholarship are accepted during the summer months.
David A. "Hawk" Hawkens Scholarship Fund 2003 Created by friends and family of USAF Captain David Hawkens, this fund serves as a memorial to his life. Jefferson, Berkeley, Morgan, and Hampshire county college-bound students with less than stellar grades, but great promise, and proven financial need are eligible.
Hospice of the Panhandle Nursing Scholarship Fund 2021. Established in memory of Taylor Spigler-James, this fund awards an annual scholarship of at least $500 to a student who is studying to be a nurse. 
Floyd and Isabel Jacques Memorial Scholarship Fund 2010 Established as a legacy gift through his estate, Mr. Jacques created this endowed fund to honor his late wife and to benefit students graduating from Musselman High School in the top 10% of their class.
Karos Family Fund 2006 Created by Martinsburg Mayor George Karos, this scholarship helps Berkeley County students who intend to become pharmacists.
Martin Luther King Scholarship Fund 2000 To honor the memory of one of the nation's great leaders, the Martin Luther King Scholarship Committee established this committee-advised scholarship fund to distribute awards to graduating seniors heading off to college from Jefferson, Berkeley, and Morgan counties.
Susan Knott Memorial Scholarship Fund 2014 Established in memory of long-time Jefferson County teacher Susan Knott, this academic scholarship will be awarded to a Jefferson County high school student who is pursuing a degree in History or Political Science at a college or university in West Virginia.
Martinsburg 200th Anniversary Scholarship Fund 1996 Berkeley County high-school graduates seeking a four-year degree are eligible for scholarships from this fund, established with surplus funds from the celebration of the 200th anniversary of the founding of Martinsburg.
Martinsburg High School Class of 1964 Fund 2009 Created with gifts from dozens of Class of '64 graduates, this fund provides scholarships for future graduates of Martinsburg High School attending a West Virginia higher education institution.
Millers Electric Scholarship Fund 2007 Berkeley County students at James Rumsey Technical Institute ready to study Electrical/Electromechanical Technology, Heating/Ventilation/Air Conditioning & Refrigeration or Culinary Arts benefit from this fund created by this family-owned business.
Todd Mosby Memorial Scholarship Fund 2011 Inspired by the remarkable athleticism of the late Todd Mosby (a 2000 Musselman High graduate), the Eastern Panhandle WVU Mountaineer Fan Club created this fund in his memory to benefit Berkeley County students with a sports background and financial need who seek to attend WVU.
Nancy Needy Scholarship Fund 2017 Right before her death, Nancy Needy established this Legacy scholarship fund. She was a longtime librarian at Martinsburg South Middle School and valued her community and education. This fund benefits graduating seniors from Martinsburg High School, seeking a degree in Library Sciences, Language Arts, or Biological Sciences.
Dr. Theodore K. Oates Nursing Scholarship Fund 2014 The advisors of the Berkeley County Industrial Park Development Fund established this scholarship fund for students who are graduating from or are graduates of, a Berkeley County high school and are planning on studying nursing at one of the colleges, universities or technical institutes in the Eastern Panhandle of West Virginia. One scholarship of approximately $5,000 will be awarded annually.
Lauren Le-An Porterfield Oblak Memorial Scholarship Fund 2014 Established by Lauren Porterfield's siblings, Rhonda, Andrew, and Joyce Porterfield, and funded with memorial gifts from family and friends, this fund will award scholarships to female athletes from Martinsburg High School.
Overington Scholarship Fund 2009 Home-schooled K–12 students, as well as those attending faith-based area schools, benefit from this scholarship fund, created by John and JoAnn Overington.
Morgan and Robert Owens Scholarship Fund 2014 The primary intent of the fund is to award scholarships to students who may have less than stellar academic records (GPA of 2.5 or above), but have exceptional potential. The award will go to a Berkeley County graduating senior planning to seek a degree in social work or nursing from an accredited two- or four-year school, college, or university.
Detlev and Mary Ellen Preissler Scholarship Fund for the Arts and Nature 2022 This scholarship was established by Mrs. Preissler in memory of her late husband Detlev. High school seniors who are active in the arts (visual, dramatic, music, design, etc.) or nature (volunteering with summer camps, scouting, 4-H, or organizations like the Potomac Valley Audubon Society, etc.) are encouraged to apply.
Robert Rentschler Memorial Fund 2008 Each year, a Warm Springs Intermediate School student who has shown a positive change in behavior and exceptional improvement in academics receives a $100 award in memory of Robert Rentschler, a former principal of the school and a man who was a leader in education in West Virginia.
Paul Ropp Memorial Scholarship Fund 2016 This fund was established at the Community Foundation to provide an annual scholarship to a deserving Martinsburg High School student. Mr. Ropp had directed that special consideration be given to a student who would be attending West Virginia University with the intent to major in a scientific field of study.
M. Frances Secrist Scholarship Fund 2015 Established by family and friends of M. Frances Secrist, this fund awards a scholarship to a graduating senior from a Berkeley County public high school who will attend a West Virginia college or university to pursue studies in agriculture or animal sciences.
J. Oakley Seibert Scholarship Fund 2003 This memorial scholarship, inspired by the life's work of an outstanding member of our community, helps students from Berkeley, Jefferson, and Morgan Counties attend law school.
Edgar McKee and Ethel D. Sites Scholarship Fund 1997 Caroline Sites Fruchtman and William Sites created this fund in memory of their parents. It provides scholarships to graduating seniors from Martinsburg High School.
Clyde E. Smith, Jr. Fund 2006 Established as a permanent endowment by the family, friends, and colleagues of the late Clyde E. Smith, Jr., this fund assists graduating Eastern Panhandle seniors choosing to pursue a bachelor's degree in business administration.
Susan Wellford Smith Scholarship Fund 1998 Established in memory of Susan Wellford Smith by her family, this fund provides scholarships for female athletes from Jefferson County who plan to pursue a four-year degree.
South Jefferson Ruritan Club Scholarship Fund 2016 Established by the members of Jefferson County's oldest Ruritan Club, this fund provides renewable scholarships to support students from Jefferson County who are working toward a degree with a focus on agriculture or veterinary science.
Erin Sponaugle Scholarship Fund 2014 Established in honor of 2013–2014 West Virginia Teacher of the Year, this scholarship will help a graduate of, or a graduating senior from, a public high school in Berkeley County. The recipient must be a high school senior who plans to seek an education degree from Shepherd University or be a junior or senior year education major at Shepherd University.
Dr. Gwen Steeley Memorial Scholarship Fund 2007 Roy and Gwen Steeley's fund provides scholarships for Jefferson and Berkeley County graduates pursuing a teaching degree from a West Virginia college or university.
Fulton L. Walker, Jr. Scholarship Fund 2016 Family members and friends of Fulton L. Walker, Jr. established this fund in his memory to honor his achievements on and off the football field. One Martinsburg High student and another Berkeley County Schools student with proven financial need and acceptance to West Virginia University will be awarded this scholarship in 2018. To help build the endowment, supporters of the scholarship organize a golf tournament and several other fundraising activities annually.
Terry Lee Walker Jr. Scholarship Fund 2006 This fund was created by family and friends in Memorium to this young man who was killed in a tragic 2002 automobile accident caused by a driver-under-the-influence. Distributions provide scholarships for Jefferson and Berkeley county high school and home school graduates attending a WV college or university.
Douglas Arthur Ways Scholarship Fund 2021 Founded by Douglas Kirk Ways and Mary Duvall Ways for a graduating senior of a Berkeley County High School pursuing a degree in the Health Sciences Field, with preference being given to Martinsburg High School graduates.
West Virginia Wing – Civil Air Patrol Cadet Scholarship Fund 2016 Martinsburg native Dennis D. Barron established this fund to provide scholarship assistance to members of the Civil Air Patrol Cadet Program in West Virginia. Priority will be given to Civil Air Patrol Cadets from the Martinsburg Squadron.
Whalton Family Fund 2013 Susan Hawkens Whalton established this fund as a birthday gift for her husband, Michael, to honor his parents, Joe, and Sally, and siblings, Susie, Joe, and John. The fund provides scholarships unique to each year's needs.
George Whitehair Scholarship Fund 2013 Seniors from Martinsburg High School receive financial support from this fund that was established to honor a much-beloved former Martinsburg High School principal.
The Woods Scholarship Fund 2002 To promote and support public education, The Woods Resort established this fund to provide scholarships to Hedgesville High School and Berkeley Springs High School graduates with financial needs.
Wurzburg Family Scholarship Fund 2008 This Legacy gift created by Gretchen Wurzburg will provide scholarships to Jefferson or Berkeley county students with significant financial needs and good GPA.
Mary Morrow Van Metre Yoe Scholarship Fund 2005 Set up by her grandson, Robert Yoe, this fund helps Martinsburg High School graduates study nursing at West Virginia University.
The Youth of Inwood Scholarship Fund 2020 Established in memory of Scoutmaster Clark Miller, this fund supports college-bound students who graduated from Musselman High School with a GPA of 3.0 or better.
Students interested in applying for one of our scholarships can visit the HOW TO APPLY page on our website. From there you can learn how to set up an account on AwardSpring and get started.