The United Way of the Eastern Panhandle and the Eastern West Virginia Community Foundation recently collaborated on the Nonprofit Growth and Equity Project. Partially funded by a grant from the FirstEnergy Foundation, this pilot project was developed to strengthen and empower local nonprofits with training, workshops, funding, and networking opportunities. The program supported nonprofits that currently have leaders of color, and assisted other nonprofits in developing further diversified leadership.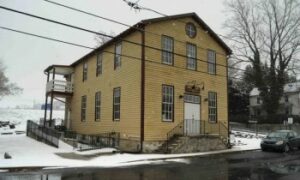 As local community funders, both the United Way and the Community Foundation receive applications for funding that do not always include the necessary details such as developed budgets and sustainability plans to meet the requirements of our review teams. Rather than simply denying the organization funding, we have developed the Nonprofit Growth and Equity Project to offer educational opportunities, access to social capital, and operational funding grants for eligible organizations that complete specific training modules.
The program was led by Innovative Solutions Technology CEO Jamila Jones. Presented in six sessions, topics of discussion included Organizational Structure, Fundraising Strategies, Budget Development, Marketing, Board Engagement, and Networking. Participants that successfully completed all six sessions received grants from the United Way and the Community Foundation.
For more information about the Nonprofit Growth and Equity Project email Michael Whalton at mwhalton@EWVCF.org or call 304.264.0353.
Previous Workshops
Over the years, the Community Foundation and the United Way hosted workshops and seminars led by Jeff Feldman of Eagle's View Enterprises and international NGO consultant Meg Kinghorn. Jeff and Meg developed the SOAR program for nonprofit organizations which focuses on Strengths, Opportunities, Aspirations, and Results. Attendees were treated to a truly inspirational presentation and Meg followed up with a seminar entitled "Moving From Bored to Board," which focused on board structure, recruitment, evolution, and ways to build an informed and effective board.
One of our most popular Lunch and Learn Seminars was sponsored by First United Bank and Trust and featured members of the media who shared ideas on how nonprofit organizations can create effective public relations campaigns by providing news releases and photographs that will be used by all channels of media including print, radio, and video.
Affiliate Director Amy Pancake helped coordinate a very successful two-day Grant Writing Workshop that was presented by Volunteer West Virginia and the Hampshire and Hardy County Community Foundations at the South Branch Inn in Romney, West Virginia. We are currently looking into bringing this program to an Eastern Panhandle venue.
Our Partners in Philanthropy Support Community Workshops and Nonprofit Training Programs
First United Bank & Trust • Bowles Rice • Jefferson Distributing Company • CNB Bank, Inc. • ROCS Local Market • United Bank • Roach Oil • Gat Creek & Caperton Furniture Works • City National Bank • Pill and Pill • BCT Bank of Charles Town